Beach Cleaning - Sand Care - Beach Enhancements Services
Beach Cleaning - Sand Care Service is a special service being offered to beach owners or any owner of a sand area. It will help keep their sand area clean, safe and healthy throughout the season. Using specialized and unique beach cleaners that are sand sifting machines, w
e are able
to access smaller private beach sand areas, unlike large tractor tow behind beach cleaners. Our light weight sand sifting equipment, can produce a sand area that is cleaner, safer and healthier without tire tracks and sand compaction after the beach sand sifting service has been performed. You will see the difference with the use of our efficient beach cleaning equipment. Call or email us today for a free estimate and see how our beach cleaners can improve your beach, volleyball court or any other sand area in need of cleaning.
Other hand cleaning methods will not produce the same results as our sand sifting equipment and large heavy equipment can cause sand compaction or leave unsightly tire tracks after the sand sifting - sand cleaning - Sand care service

EXCELLENT FOR SAND VOLLEYBALL COURTS

BARRACUDA GREAT FOR VOLLEYBALL COURTS
SIFTING OUT ALL TYPES OF DEBRIS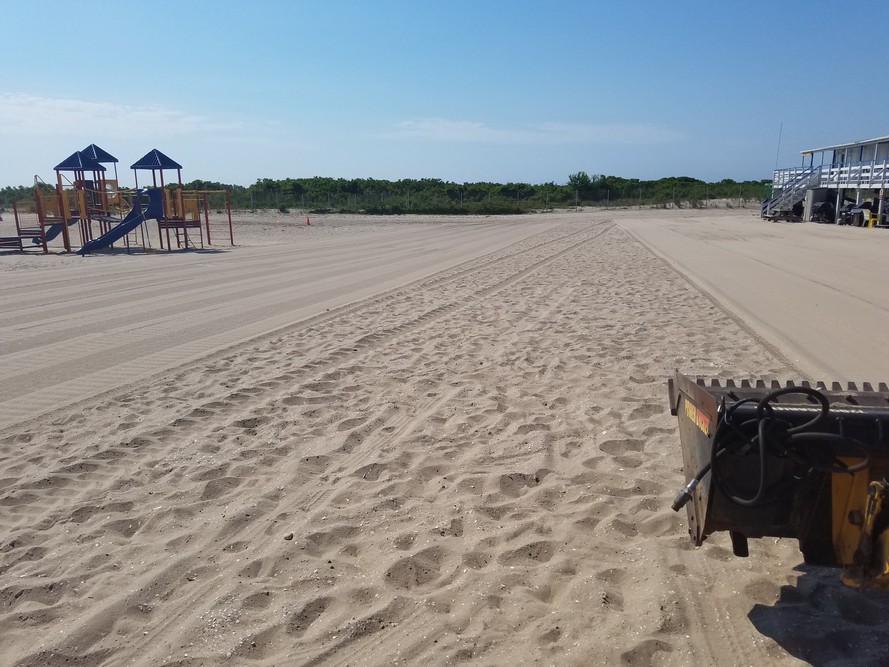 LARGER AREAS SIFTING
ASV LOW COMPACTION FOR GRADING
Sand Cleaning Service Without Many Tire Tracks, If Any, After The Cleaning Process
Natural or Man Made Debris
Beach debris should be removed to enhance and protect our shoreline and water environment
Plastics in Beach Debris
The number one plastic item we find on Long Island Beaches, more than plastic straws. It is best and easier to remove plastic items when they are large. If left in our marine eco-system, they will break down into micro plastics making them much harder to remove from our environment.
A clean beach for parties and a pleasant atmosphere - not weaving in and out of trash during a walk on the beach or cutting your feet on broken shells
Enhancing the beauty and health of your beach not changing the shoreline environment. Shoreline plants are important to the beach environment and should not be removed during the sand cleaning
Environmentally friendly sand cleaning and the attention to the little details. Our equipment has a very low PSI so we are gentle on the environment.